Special Board Meeting Announcement 9/14/2023
Special Board Meeting Announcement 9/7/2023
Marquette Housing Commission Strategic Plan
Corrected Strategic Meeting Announcement
Strategic Meeting Announcement

Please click here for the Emergency Housing Guide from caring.com
The Pine Ridge Marquette Resident Council will be holding a meeting in the community room on Wednesday, December 14, 2022 at 7:30 p.m.
May 2022 Board Meeting Announcement
January 2022 Board Meeting Cancellation
The Board meeting scheduled for Tuesday, September 28, 2021 has been cancelled.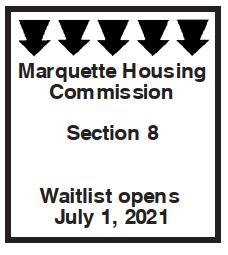 June 2021 Board Meeting Announcement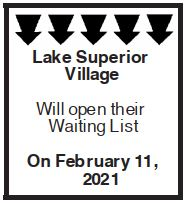 January 2021 Board Meeting Announcement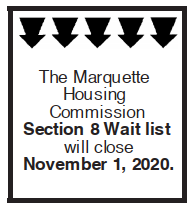 The waiting list for Pine Ridge ONLY will be open effective September 1, 2020.
June Board Meeting Announcement
IMPORTANT PINE RIDGE RAD UPDATE INFORMATION
IMPORTANT LSV RAD UPDATE INFORMATION
Anyone can join the Board meeting scheduled for April 21, 2020 via Zoom ID 836 0264 1869.
THE LAKE SUPERIOR VILLAGE WAITING LIST IS CLOSED EFFECTIVE APRIL 20, 2020 FOR ALL BEDROOM SIZES.
Covid-19 Announcement
https://mqthc.org/wp-content/uploads/2020/04/Business.docx
City of Marquette Animal Licenses
The City of Marquette is requesting citizens not to obtain a license for cats or dogs until after April 19, 2020.
March Board Meeting
The Board Meeting scheduled for March 24, 2020 has been canceled.
2020 Board Meeting Update
The Tuesday, April 28, 2020 meeting has been moved to Tuesday, April 21, 2020 at noon.