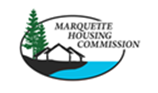 Housing Choice Voucher Program/Section 8
The waitlist for Housing Choice Voucher program will close on January 1, 2023 and we will no longer be accepting applications.
The Housing Choice Voucher Program (which is also known as Section 8) issues and administers vouchers that pay a portion of the program participants monthly rent for privately owned units. Vouchers, also known as a housing subsidy, may be used to rent a unit from any landlord in Marquette County, who are eligible to participate in the program. Federal funding from the US Department of Housing and Urban Development for this program is to help very low income families, elderly and disabled families to rent from housing that meets the requirements of the program.
Households in this program earn 30 percent of area median income or less to qualify, and pay the portion of rent and utilities not covered by the voucher—typically 30 to 40 percent of monthly income.
Marquette Housing Commission (MHC) currently administers 50 vouchers, working hand in hand with private landlords to provide safe housing for voucher participants through implementation of a HAP contract. These units are inspected for Housing Quality Standards. For additional information click on the links above.
MHC needs your most current information. It is in your best interest to notify the MHC in writing if there are changes in your household composition, income, address, phone number or interest in the program.
Open House @ Orianna Ridge August 4th 2018
Policies