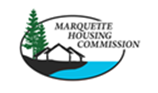 Applicants
The Marquette Housing Commission (MHC) will open their Section 8 Housing Choice Voucher Program waiting list on July 1, 2021 and will be accepting new applications.
If your name is already on the waiting list you must respond to the Annual Update in a date stated on the letter. Letters un-deliverable will result in removal from the list. This is why it is important to contact us with your personal information.
While MHC will not be accepting new applications while the waiting list is closed, we will still process those currently on the list and make voucher offers as vacancies occur.
Once your application reaches the top of the waiting list the steps are as follows:
"Briefing Meeting" letter is received. At this meeting you will bring requested certifications and personal documentation stated in your letter. A briefing packet will be provided for review and signatures.
Voucher is issued. This allows the applicant to search for an acceptable unit to rent within the payment standards. Review A Good Place to Live before looking at a unit.
A Request for Tenancy Approval (RFTA) is filled out by the landlord and returned to the MHC. The MCH calculates the maximum amount of assistance allowable, which is the lesser of the payment standard minus 30% of the family's monthly adjusted income or the gross rent for the unit minus 30% of monthly adjusted income.
Inspection is scheduled. Once unit passes HQS inspection, both the lease and Housing Assistance Payments (HAP) contract are signed by the landlord and tenant for the same term.
For more information check out the HUD Fact Sheet.